PROGRAMMES CONDUCTED BY THE DEPARTMENT OF ECONOMICS & STATISTICS IN 2023
9th February 2023
A one day refresher training on Sample Check was held at Directorate Conference Hall on 9 February 2023. Dr. Sunitha Bhaskar ISS, DDG NSO Kerala has inaugurated the event. Director, Additional Directors, Joint Director and Deputy Directors in the directorate were attended the event. This programme was organised by EARAS division. From all districts, Deputy Directors, Aditional District Officers, Technical RA (EARAS) and Statistical Assistant (EARAS) were attended. Sri. Rajeev, Supt NSO Thiruvananthapuram has handled classes on AS 1.0 sample check.
7th to 8th February 2023
State level training programme on adhoc surveys in 2022-23 was held at Directorate Conference Hall on 7-8 February 2023. The subjects of surveys covered in the programme were "Survey on Infertility in Kerala" and "Survey on unreturend Pravasis in Kerala due to Covid-19". During this event which was conducted by Survey & Desigh Division, Deputy Directors and Reserach Officers from all districts were paerticipated during the programme. At directorate level, Director, Additional Ditrectors, Joint Directors and Deputy Directors attended.
17th January 2023
A team of four officers from the World Bank have visited the Directorate of Economics & Statistics Thiruvananthapuram opn 17 January 2023. The team was coordinated by WB Technology Consultant Mr. Shashank Jayakumar. The other members in the team was WB Disaster Risk Management Specialist Mrs. Illika Sahu, WB Data Specialist Mr. Ravikumar and WB Data Policy Specialist Mr. Prasanna Lal Das.
Director Sri. Sajeevu P P welcomed the guests and made a presentation on the data availability in DES. Additional Directors, Joint Directors and Deputy Directors were present during the meeting. The main objective of the discussion was data availability for disaster management. The World Bank team visit in Kerala was coordinated by Rebuild Kerala Initiative, Govt of Kerala. Thereafter a Workshop on Disaster Management was held at Kerala State IT Mission on 14-01-2023 and Deputy Director Sri. D S Shibukumar has attended in this Workshop on behalf of DES.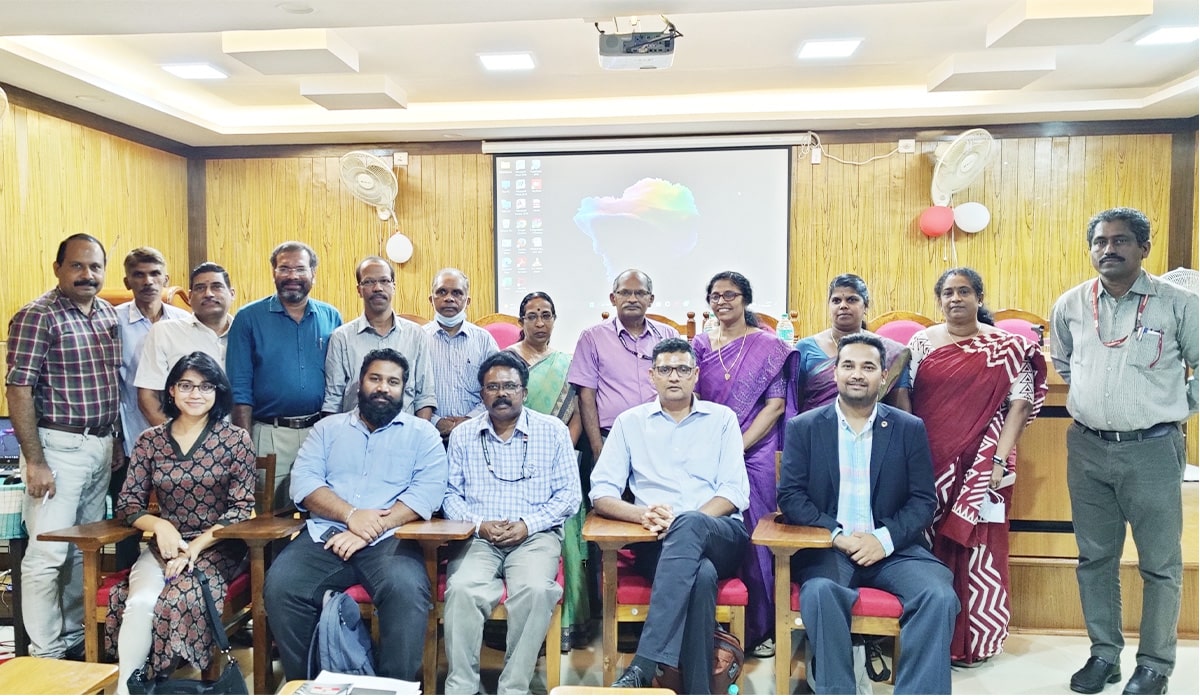 7th January 2023
An one day training programme on estimation of NSS 78th Round data was held at SASA, Thiruvananthapuram. Planning Additional Chief Secretary Sri. Puneet Kumar IAS has inaugurated the programme. KSSC Chairman Sri. P C Mohanan, ISS (Rtd) has mede a keynote address. During teh event Sri. Sajeevu P P, Director DES was presided over, Smt. Lathakumari C S, Addl Dir (General) has made a welcome speech and Addl Directors Sri. Sreekumar B and Sri. Santhoshkumar P D have made falicitations.
Sri. Somasekharan Pillai, former HoD of Statistics, University College, Thiruvananthapuram has handled classes on estimation procedure of the NSS 78 Round sample survey. Fifty numbers of officers and staff from various cadresin the Directorate of Economics & Statistics has attended the programme.