EVENTS CONDUCTED BY DEPARTMENT OF ECONOMICS & STATISTICS
5th to 6th July 2022
Two days EARAS State level annual training conference held at PWD Rest Hosue, Thiruvananthapuram. Director Sri. Sajeevu P.P inaugurated this During this conference for the survey on agriculture statistics. Senior officers from the Direcrorate, Deputy Directors and senior officers from the district offices attended. Various calsses on Horticultute crops, Agriculture insurance, Agriculture schemes, data collection and estimation methodology etc were coducted.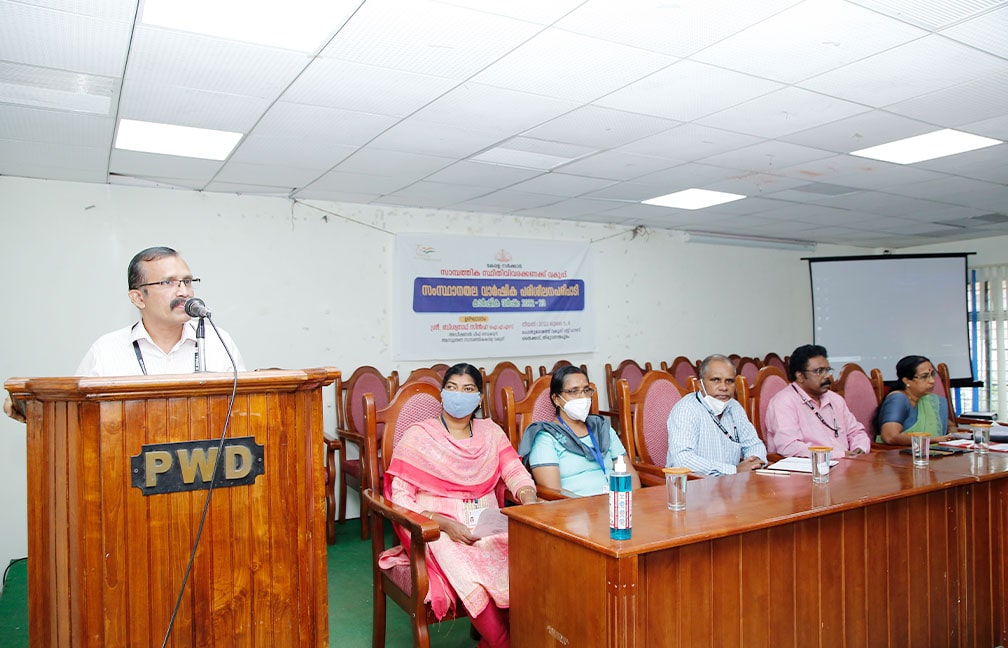 29th June 2022
National Statistics Day celebration was conducted in the Directorate to honour the father of Indian Statistics Prof. Prasanta Chandra Mahalanobis. Sri. Sajeevu P.P. presided over the event. Smt. Shiny George, Additional Secretary, Planning & Economic Affairs Department inuagurated the event. Dr. Subha R Nair, Asst Professor, NSS College, Trivandrum made a lecture on the theme "Data for Sustainable Development". Sri. D S Shibukumar, Deputy Director briefed the historical significance of the day and how the subject Statistics has evolved in India and Kerala.
Statistics Day celebrations were also conducted in all District Statistical Offices and all Taluk Statistical Offices. Presentations, quiz programmes, cultural programmes, etc were part of the events.
22nd June 2022
Hon'ble Chief Minister of Kerala Sri. Pinarayi Vijayan has inaugurated the new website of the department.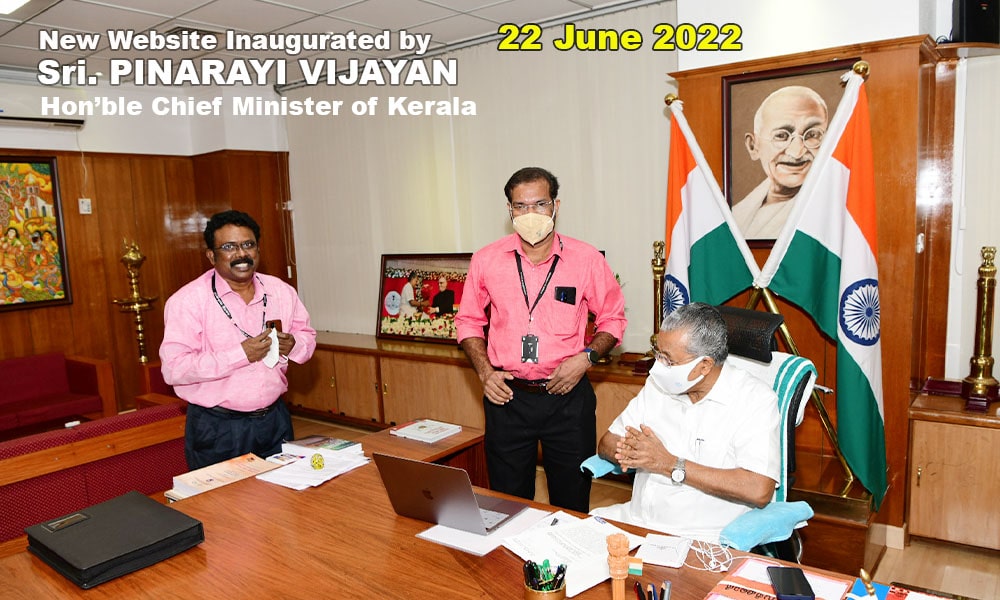 During the event held at CM's office on 22-06-2022 @11.45 am, Director Sri. Sajeevu P.P. and Deputy Director Sri. D.S. Shibukumar were present.
-------------------------------------------
7th June 2022
Azadi Ka Amrut Mahotsav formal inauguration by Sri. S.M. Vijayanand IAS Rtd and Former Chief Secretary of Kerala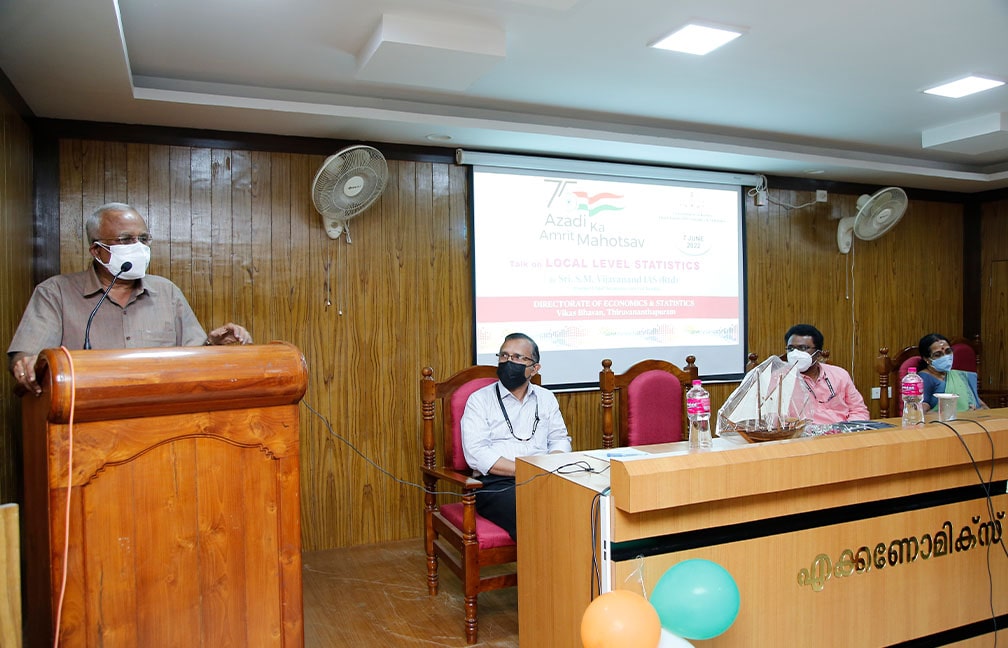 This event was held at the Training Conference Hall of DES @2.30 pm.
--------------------------------------------------
3rd March 2022
Training programme on PHP and MySQL to DES staff was conducted at SASA, Thiruvananthapuram. This training programme on software development was jointly conducted by C-DIT and SASA. This was the first official training programme conducted by SASA in its budget after the inauguration of its new building, which was constructed under ISSP project funded by Govt of India, at Kaimanam. Sri. Jayadev Anand, Registrar C-DIT, Sri. Gopeekrishnan, Co-ordinator C-DIT, Sri.Sajeevu P.P, Director SASA & DES, Smt. Resmi C.P., Dy Director SASA and Sri. D S Shibukumar, Dy Director DES were attended during the closing session of the programme.
---------------------------------------------------
24th February 2022
Training programme on Malayalma computing to DES staff was conducted at SASA, Thiruvananthapuram. Sri. Teeka Ram Meena, Additional Chief Secretary, Planning & Economic Affairs Department inaugurated the event.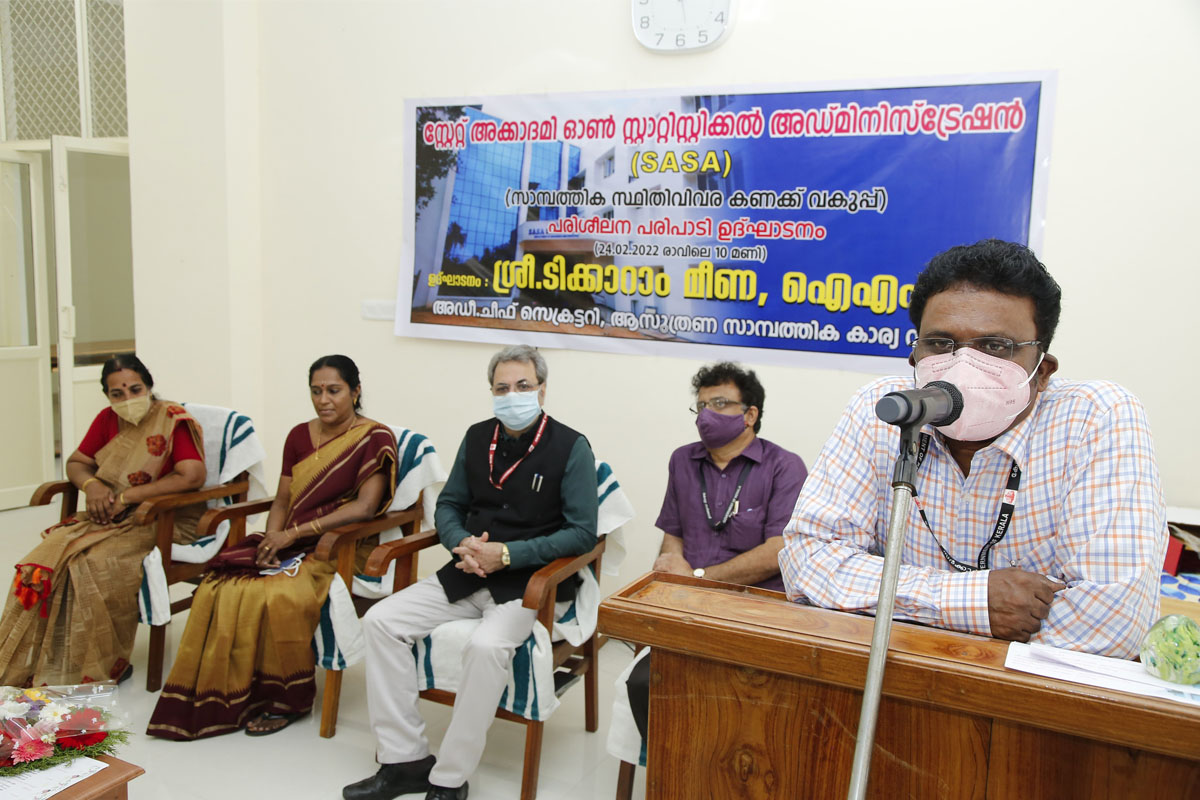 This was the first training programme held at the newly constructed building of SASA, organised by the Department of Economics & Statistics. Training to three batches were conducted during this course. A formal send off to ACS who retired from service on 28 Feb 2022 was also part of this session.
---------------------------------------------