PROGRAMMES CONDUCTED BY THE DEPARTMENT OF ECONOMICS & STATISTICS IN 2022
Official language week celebration and ecostat news release- 1st November 2022
On the occasion of the 66th anniversary of the birth of Kerala, the Department of Economic Statistics organized the Malayalam Day celebration and the official language week celebration from November 1 to 7 with elaborate programs. Hon. Dr. G. S. Pradeep, Vice-Chairman, Vailopilli samskrithi Bhavan inagurated the celebrations at Directorate Conference Hall on November 1, 2022.The said function was presided by Honorable Director Mr. Sajeevu PP.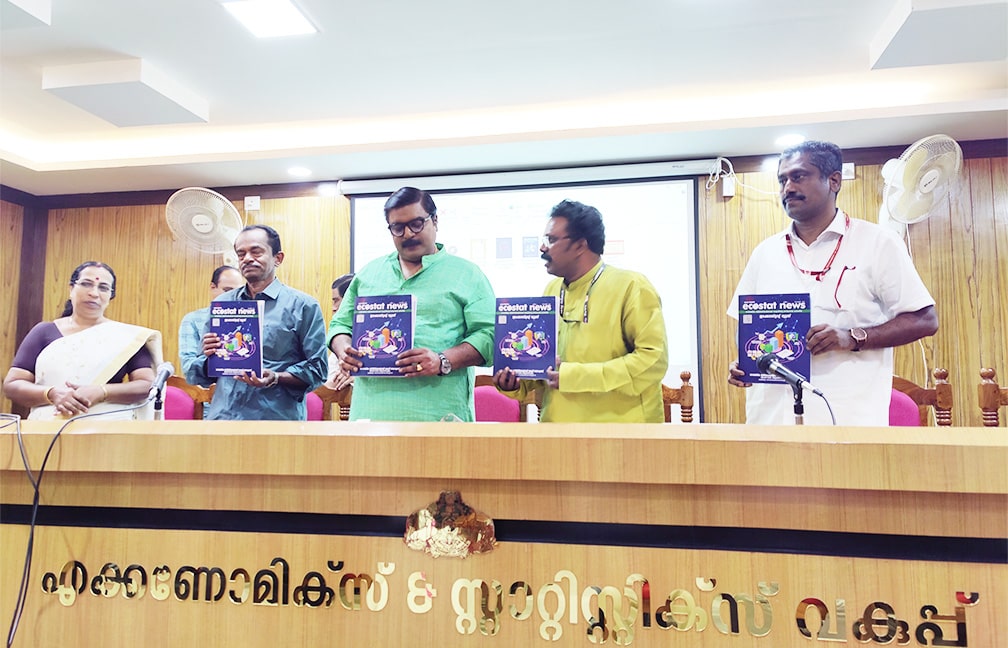 Malayalam Day Celebration - Concluding official language celebration programs and felicitation of winners of various competitions was held on 7th November 2022 at the conference hall. Honorable Director Sri. Sajeevu P.P presided over the meeting.
Programs organized in district offices on the occasion of 1st anniversary of Kerala Cabinet
On the occasion of the first anniversary of the Kerala Cabinet, various programs were organized in the district offices.Economics and Statistics Thrissur district office had an active presence in the mega exhibition 'Ente Keralam' organized at Thekinkad Maidan, Thrissur, and the seminar held in connection with it. .Higher Education Minister Dr. R. Bindu inaugurated the event.
In connection with the first anniversary of the Kerala Cabinet, an exhibition and marketing fair was held in Kollam district from April 25 to May 1, 2022 at the Kollam Ashram grounds. On April 25, at 4.00 pm, the opening ceremony started with a procession from St. Joseph's Higher Secondary School grounds to the exhibition hall at Ashram grounds. Hon'ble Minister Sri.K.N.Balagopal inaugurated the event.Hon. Mrs. J. Chinchu Rani, Minister of Animal Welfare, presided and Welcome speech was given by Mrs. Afsana Parveen IAS , Hon'ble District Collector Kollam. In connection with the exhibition, various art programs and awareness classes were organized every day from 5.00 pm onwards. The Stall allotted to the Department of Economics and Statistics was inaugurated by Kollam District Deputy Director Sri Vijayakumar V.
On the occasion of the first anniversary of the Kerala Cabinet, the exhibition and marketing fair held in Malappuram district from May 10 to 16, 2022 at Tirur Government Boys High School and Seethi Sahib Memorial Polytechnic Ground was inaugurated by Hon. Sports Minister Shri V. Abdul Rahman. There were two stalls of the Economic Statistics Malappuram District Office at the fair.
As part of the first anniversary celebration of the state government, "Ente Keralam" exhibition and marketing fair of Thiruvananthapuram district was held from 27-05-2022 to 02-06-2022 at Kanakakunnu. There was a stall of the Economics and Statistics District Office Thiruvananthapuram at the fair.
Various statistics, reports, departmental publications were displayed in the pavilions of the department and competitions were organized.
26th September 2022- Onam 2022 Celebration
A float based on the theme Sustainable Development Goals and Statistics was presented on 12-09-2022 in conjunction with the Onam 2022 celebrations as per the government directive. In the said procession, there were Shingari Melam and Muthukkuda along with the float. These were given brilliance to the float presented by the department in the procession. Officers from the department including the Director participated in the procession.
26th July 2022- NSS Training Programme
As part of NSS 79th round survey, State Economic Statistics Department NSS Division conducted a state level training program for NSS Division employees on 7th and 8th July 2022 at Public Works Department Rest House, Thaikkad.Honorable Department Director Mr. Sajeevu P.P. Inaugurated the event.National Sample Survey 79th Round conducting survey based on the subjects Comprehensive Annual Module Survey (CAMS) and AYUSH.
26th September 2022
State level training conference on Consumer Price index for Rural Urban and Combined was held at PWD Rest Rouse, Thiruvananthapuram. Sr. Vinoj Abraham, Professor CDS inaugurated the event. Director Sri. Sajeevu P.P., Addl Director Sri. Sreekumar B, Addl Director Smt. Lathakumari, Central Statistical Office Joint Director Sri. Jose Kurian ISS, NSSO DDG Smt. Sunitha Bhaskar, etc present during the inaugural session.
14th September 2022
State level training conference of Agriculture Census 2020-21 was held at PWD Rest Rouse, Thiruvananthapuram. Ministry of Agriculture & Farmers Welfare Deputy Director General & Agriculture Census Commissioner Dr. Dalip Singh ISS has inaugurated the event online. Director Sri. Sajeevu P.P, Additional Director Sri. Sreekumar B, Ms. Jagrati Goyal, Asst Director, M/o A&FW etc present during the event.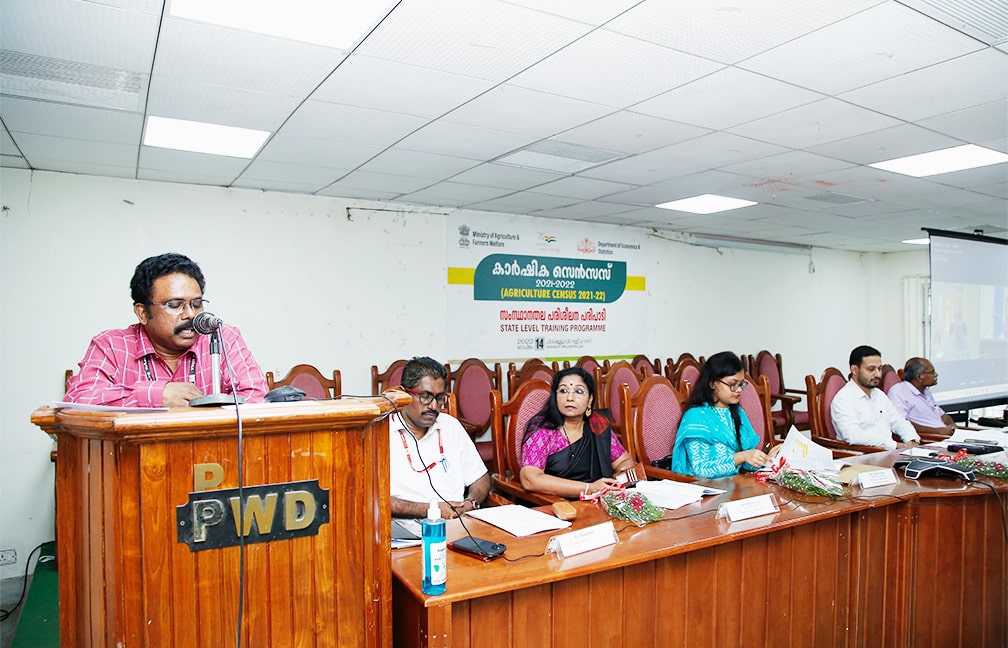 17th August 2022
The functioning of the new Taluk Statistical Office of Idukki started at Kattappana on 17-08-2022. Idukki Deputy Director handed over the charge of the office to the newly appointed Taluk Statistical Officer Sri. Nikhil during the event.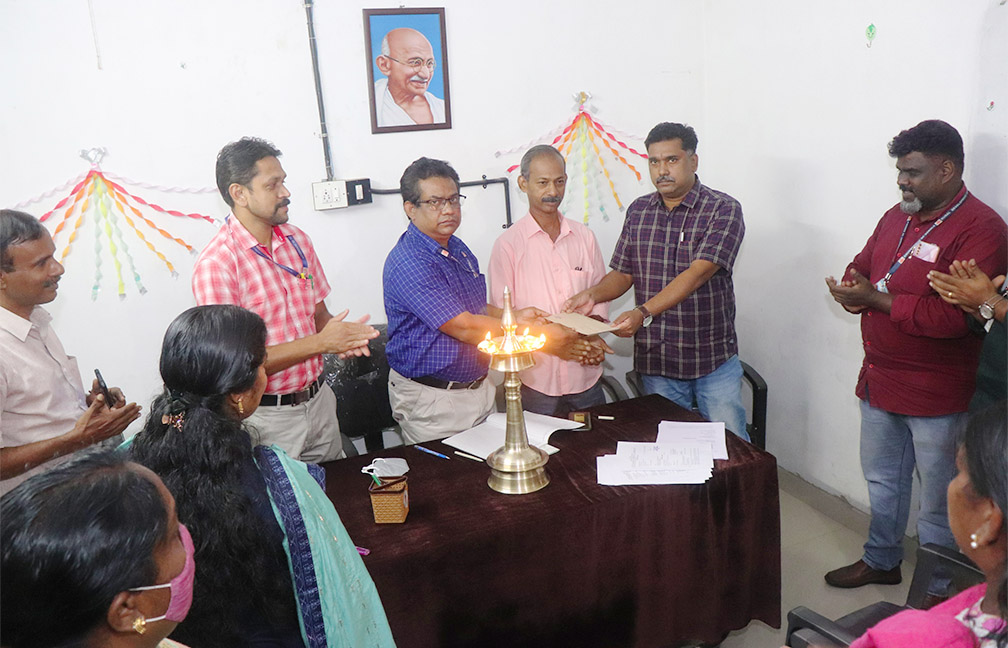 -------------------------------------------
5th to 6th July 2022
Two days EARAS State level annual training conference held at PWD Rest Hosue, Thiruvananthapuram. Director Sri. Sajeevu P.P inaugurated this During this conference for the survey on agriculture statistics. Senior officers from the Direcrorate, Deputy Directors and senior officers from the district offices attended. Various calsses on Horticultute crops, Agriculture insurance, Agriculture schemes, data collection and estimation methodology etc were coducted.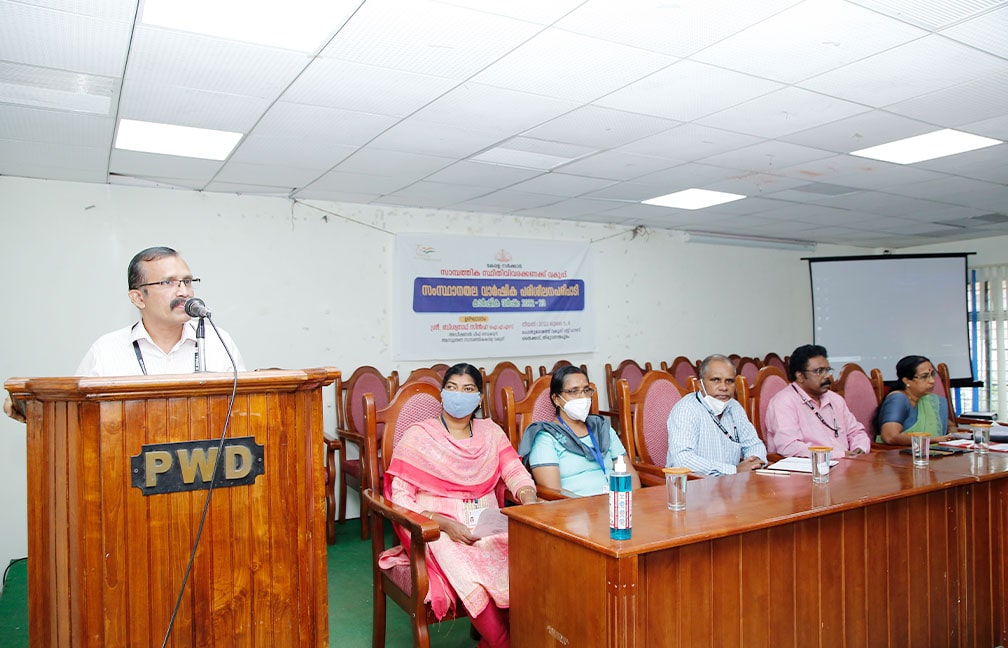 -------------------------------------------
29th June 2022
National Statistics Day celebration was conducted in the Directorate to honour the father of Indian Statistics Prof. Prasanta Chandra Mahalanobis. Sri. Sajeevu P.P. presided over the event. Smt. Shiny George, Additional Secretary, Planning & Economic Affairs Department inuagurated the event. Dr. Subha R Nair, Asst Professor, NSS College, Trivandrum made a lecture on the theme "Data for Sustainable Development". Sri. D S Shibukumar, Deputy Director briefed the historical significance of the day and how the subject Statistics has evolved in India and Kerala.
Statistics Day celebrations were also conducted in all District Statistical Offices and all Taluk Statistical Offices. Presentations, quiz programmes, cultural programmes, etc were part of the events.
-------------------------------------------
22nd June 2022
Hon'ble Chief Minister of Kerala Sri. Pinarayi Vijayan has inaugurated the new website of the department.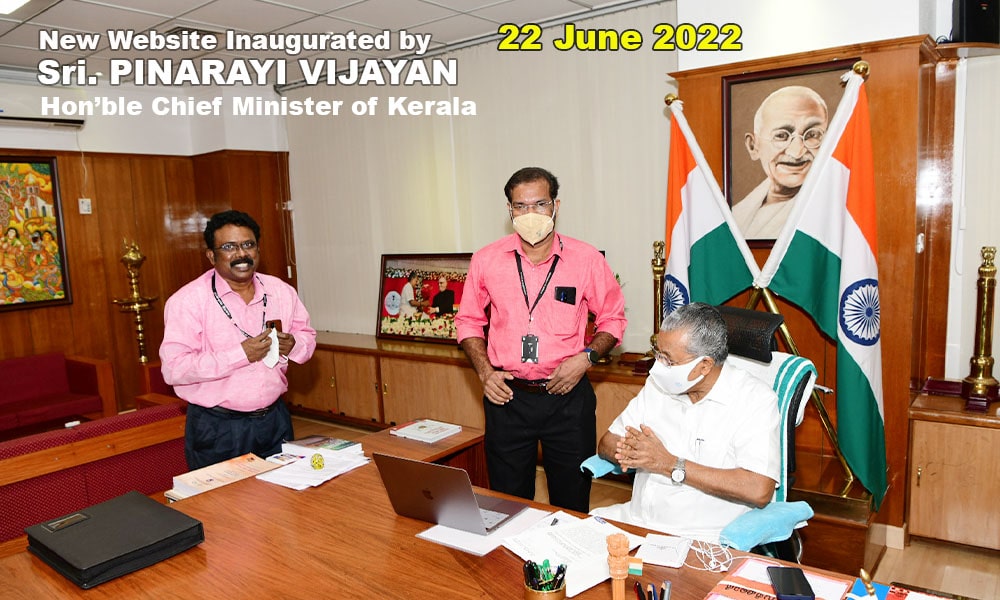 During the event held at CM's office on 22-06-2022 @11.45 am, Director Sri. Sajeevu P.P. and Deputy Director Sri. D.S. Shibukumar were present.
-------------------------------------------
7th June 2022
Azadi Ka Amrut Mahotsav formal inauguration by Sri. S.M. Vijayanand IAS Rtd and Former Chief Secretary of Kerala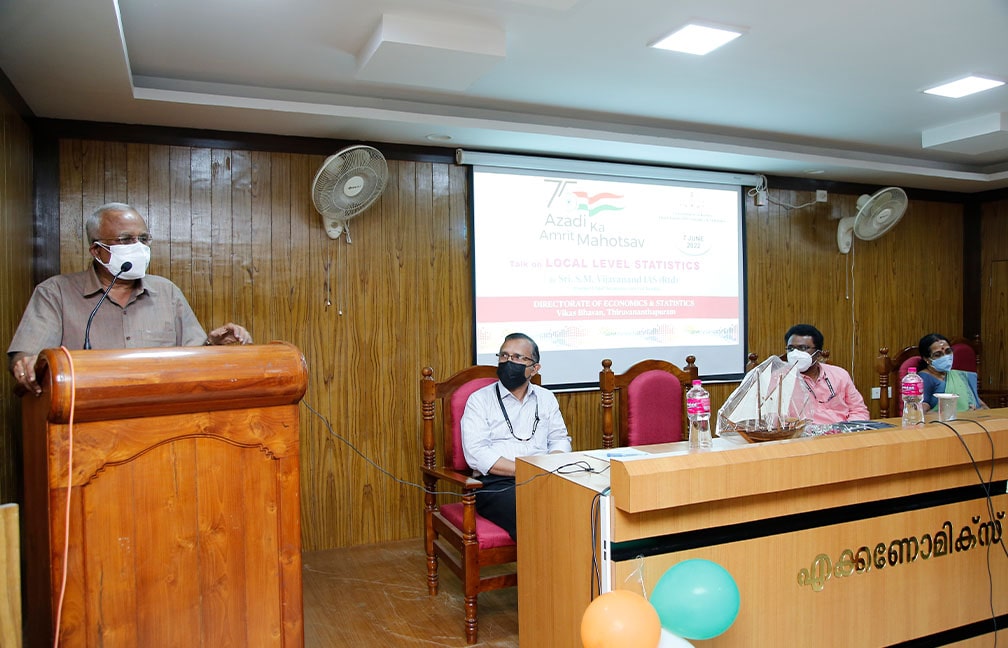 This event was held at the Training Conference Hall of DES @2.30 pm.
--------------------------------------------------
3rd March 2022
Training programme on PHP and MySQL to DES staff was conducted at SASA, Thiruvananthapuram. This training programme on software development was jointly conducted by C-DIT and SASA. This was the first official training programme conducted by SASA in its budget after the inauguration of its new building, which was constructed under ISSP project funded by Govt of India, at Kaimanam. Sri. Jayadev Anand, Registrar C-DIT, Sri. Gopeekrishnan, Co-ordinator C-DIT, Sri.Sajeevu P.P, Director SASA & DES, Smt. Resmi C.P., Dy Director SASA and Sri. D S Shibukumar, Dy Director DES were attended during the closing session of the programme.
---------------------------------------------------
24th February 2022
Training programme on Malayalma computing to DES staff was conducted at SASA, Thiruvananthapuram. Sri. Teeka Ram Meena, Additional Chief Secretary, Planning & Economic Affairs Department inaugurated the event.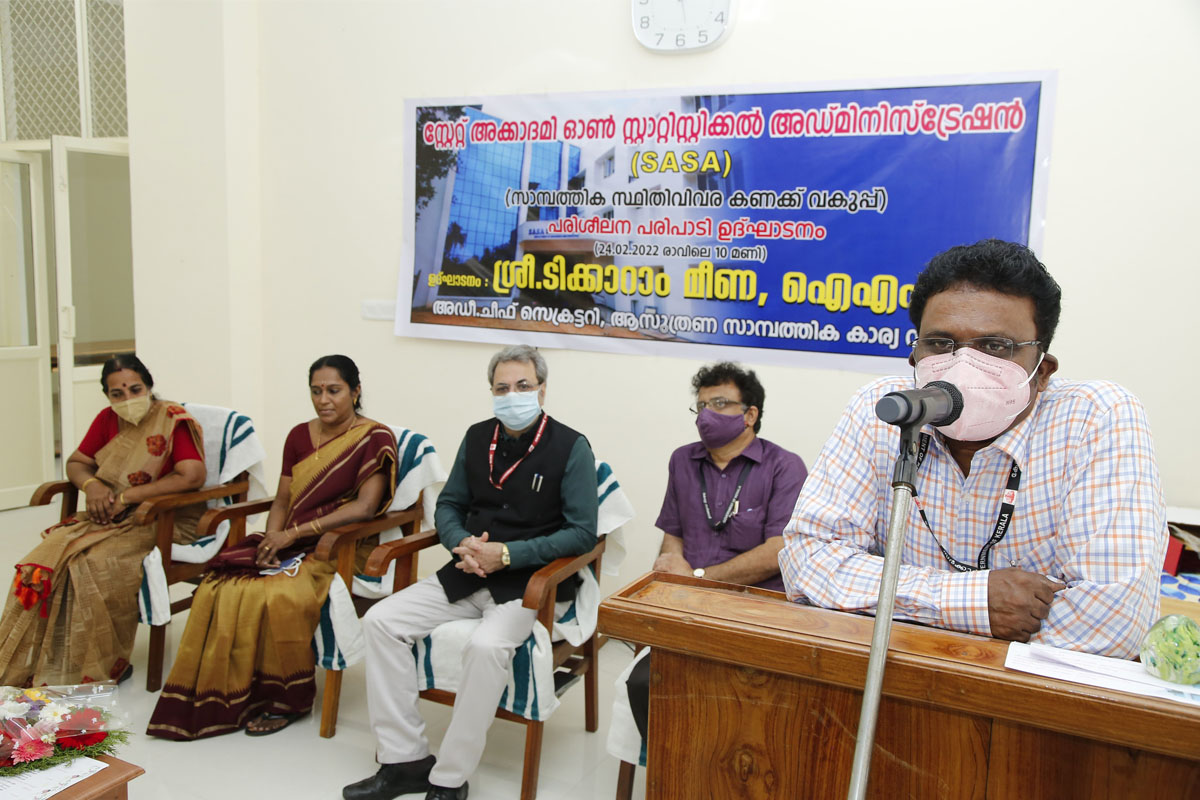 This was the first training programme held at the newly constructed building of SASA, organised by the Department of Economics & Statistics. Training to three batches were conducted during this course. A formal send off to ACS who retired from service on 28 Feb 2022 was also part of this session.
---------------------------------------------